The 50th Anniversary Symposium of
the Japan Society of Fluid Mechanics
September 4, 2018
Osaka University Hall, Toyonaka Campus,
Osaka University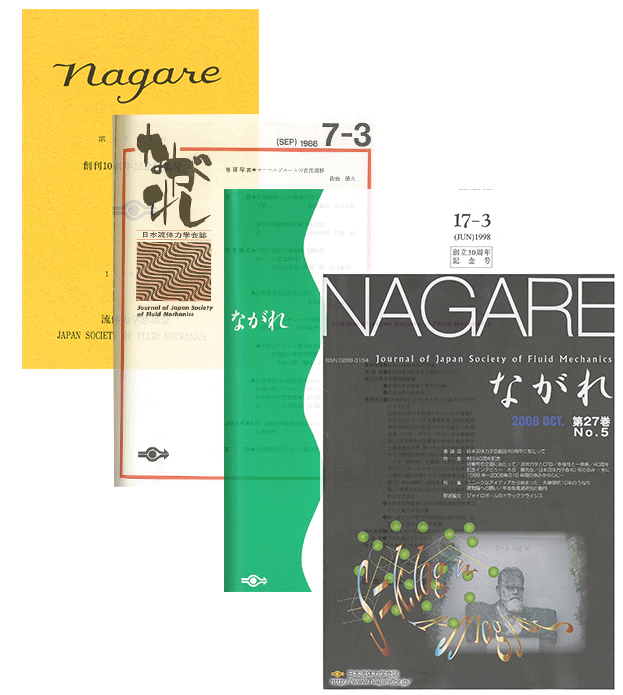 The Japan Society of Fluid Mechanics (JSFM) originated from a voluntary party of researchers working on fluid mechanics in 1968. The JSFM celebrates its 50th Anniversary in 2018, and to commemorate this landmark we are delighted to announce the 50th Anniversary Symposium on September 4, 2018, at Osaka University Hall in Toyonaka Campus of Osaka University. This is a one-day symposium consisting of six invited lectures by distinguished speakers from around the world. The symposium language is English.
Since the Japan Meteorological Observatory issued "a storm warning for Toyonaka city" at 4h56 in the morning on September 4 and it was not cleared before 15h00, we have canceled the symposium. We refund the registration fee. Please let us know your bank account information by sending us the form by email (info@nagare.or.jp) before September 14.
Invited Speakers
Program
8:30- Registration
9:30-9:45 Welcome, Opening Remarks
Michio Yamada, President of Japan Society of Fluid Mechanics
9:45-10:45 Invited Lecture 1
Tsutomu Kambe, University of Tokyo
Part I. Landscape of JSFM fifty years ago
Part II. New perspectives on mass conservation law and waves in fluid
ABSTRACT
SLIDES
Chairperson: Takeru Yano, Osaka University
10:45-11:45 Invited Lecture 2
Fulvio Scarano, Delft University of Technology
Recent advancements towards large-scale flow diagnostics by robotic PIV
ABSTRACT
SLIDES
Chairperson: Yuichi Murai, Hokkaido University
11:45-12:45 Lunch Break
12:45-13:45 Invited Lecture 3
François Golse, École Polytechnique
From the kinetic theory of gases to models for aerosol flows
ABSTRACT
SLIDES
Chairperson: Shigeru Takata, Kyoto University
13:45-14:45 Invited Lecture 4
Howard A. Stone, Princeton University
Some variants of classical multiphase flow problems
ABSTRACT
Chairperson: Susumu Goto, Osaka University
14:45-15:15 Coffee Break
15:15-16:15 Invited Lecture 5
Nigel Goldenfeld, University of Illinois at Urbana-Champaign
The emergence of collective modes, ecological collapse and directed percolation at the laminar-turbulence transition in pipe flow
ABSTRACT
SLIDES
Chairperson: Hisao Hayakawa, Kyoto University
16:15-17:15 Invited Lecture 6
Uriel Frisch, Observatoire de la Côte d'Azur/UCA
(in collaboration with Laszlo Szekelyhidi, Dep. Math. Univ. Leipzig, Germany and Takeshi Matsumoto, Dep, Physics, Kyoto University, Japan)
The mathematical and numerical construction of turbulent solutions for the 3D incompressible Euler equation and its perspectives
ABSTRACT
SLIDES
Chairperson: Takeshi Matsumoto, Kyoto University
17:15-17:20 Closing Remarks
Takeru Yano, Osaka University
Registration
Until August 3
On site
Students
1,000 JPY
1,000 JPY
Others
3,000 JPY
5,000 JPY
Registration fee will be processed in the way described in http://www2.nagare.or.jp/nenkai2018/ (in Japanese) until August 3. Otherwise, please register at the reception desk on the day of Symposium. If you need any assistance for the registration, please contact us ( jsfm50@fm.me.es.osaka-u.ac.jp).
Venue
Osaka University Hall, Toyonaka Campus, Osaka University
Organizing Committee
Takeru Yano, Chair, Osaka University
Susumu Goto, Secretary, Osaka University
Masashi Inaba, Secretary, Osaka University
Takeshi Matsumoto, Kyoto University
Hisao Hayakawa, Kyoto University
Shigeru Takata, Kyoto University
Yuichi Murai, Hokkaido University
Contact us